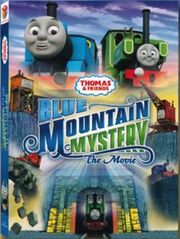 All of the merchandises from Blue Mountain Mystery.
TrackMaster
Edit
Wooden Railway
Edit
Rheneas (normal and repainted versions)
Blue Mountain Mystery Gift Pack
Boulder Mountain Mine
Blue Mountain Adventure Set
Boulder Pass Battery-Operated Set
Take-n-Play
Edit
Tales from the Past Engine
Slate Loading Station
Paxton at the Blue Mountain Stone Shed
Blue Mountain Mystery
Risky Rails
Hide-and-Seek Engines
Secret of the Green Engine
Thomas` Giant Puzzle Book
Blue Mountain Mystery: The Movie Storybook
Blue Mountain Mystery: Sticker Activity Book
Ad blocker interference detected!
Wikia is a free-to-use site that makes money from advertising. We have a modified experience for viewers using ad blockers

Wikia is not accessible if you've made further modifications. Remove the custom ad blocker rule(s) and the page will load as expected.